Observation of URUSHI MURO BOX aging
After the first lacquer muro introduced on the blog, we started pre-order sales of the assemble-type lacquer muro "URUSHI MURO BOX KD" in February this year. It can be dismantled when moving and can be carried in suitcase(large). We will publish it on Instagram and HP, and we will produce a limited number of reservations for a small amount of production. (Applications were closed at the end of February.)
To be honest, I was thinking of stopping production if there was no response, but thankfully, the response exceeded my expectations. There are inquiries not only from Japan but also from overseas, and there are many people who have the same worries as me, as it is difficult to get a full-fledged lacquer room other than made-to-order items, such as offers to handle it in the online shop. I can't. I also received feedback that the design was simple and cool. Thank you very much!
Unpainted boxes and furniture made of natural wood, which is used by wetting one side with water, are quite special. Also, since there were no assembly-type lacquer muro that require frequent dismantling, I would like to introduce a realistic situation of how the lacquer muro will age over time. I would like to publish the precautions and ingenuity of how to handle it.
The first completed product was used for about 20 months, and the assemble-type was used for 9 months. I think that the stains will increase if the interior is used frequently. I use the finished product all the time, and the assemble-type is only used for Kintsugi WS, so the usage time is short, and it is often dismantled when moving.
     Appearance and interior of the finished product after 20 months (always used in place)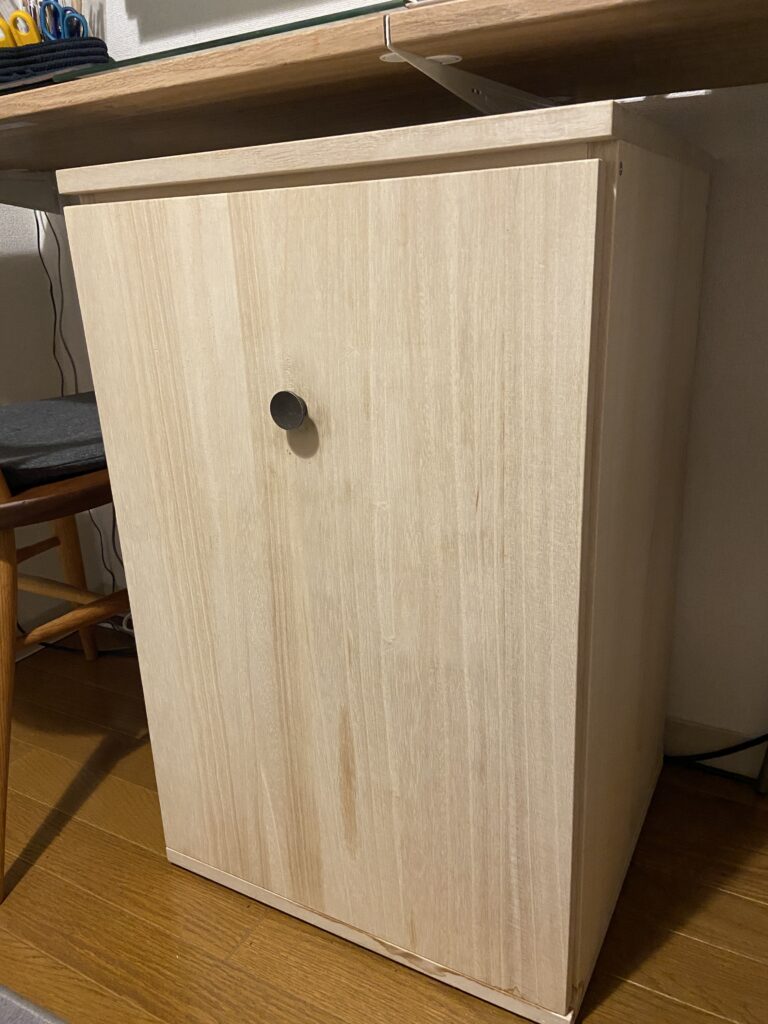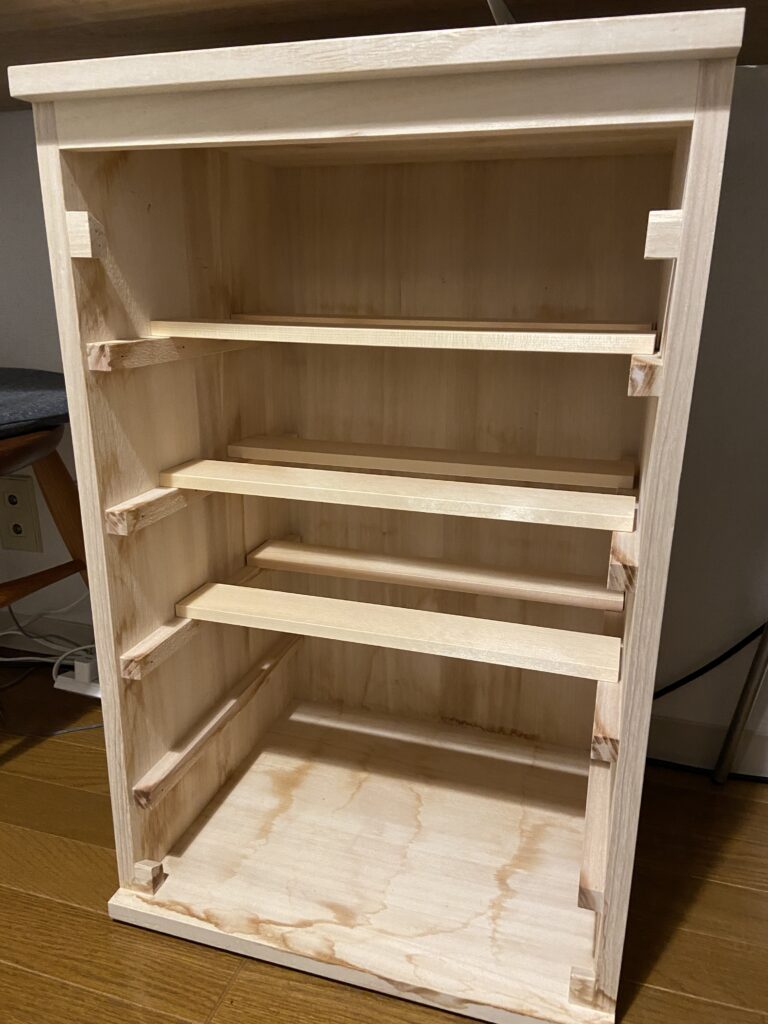 Appearance after 9 months of assembly (dismantled when moving used for WS)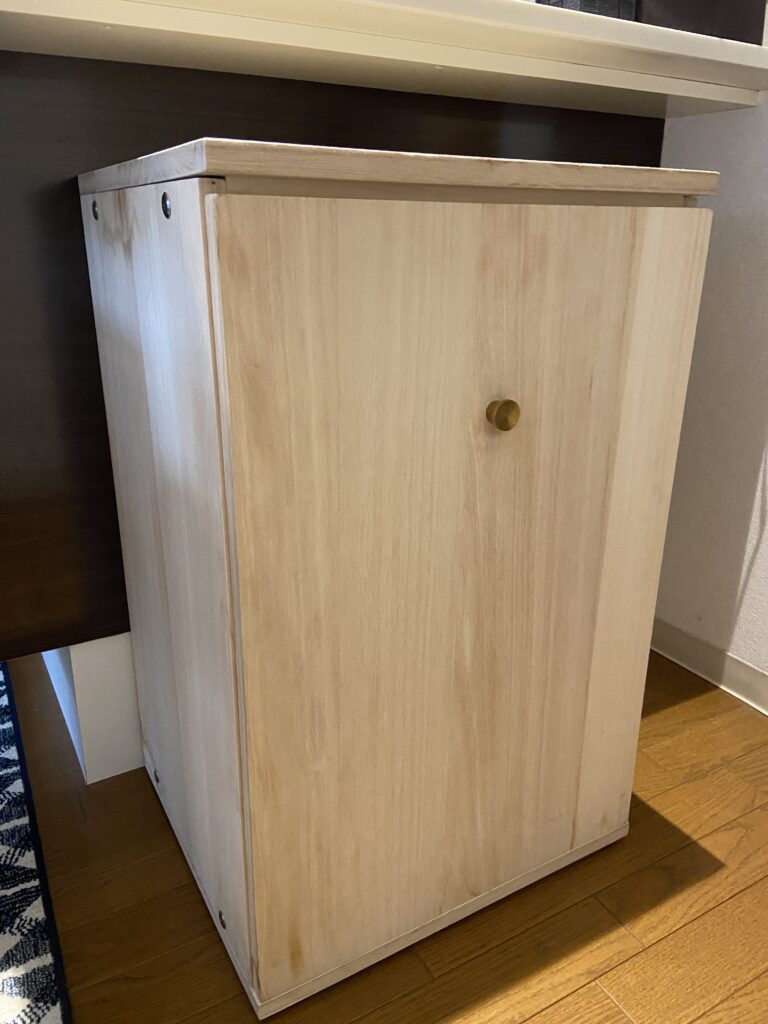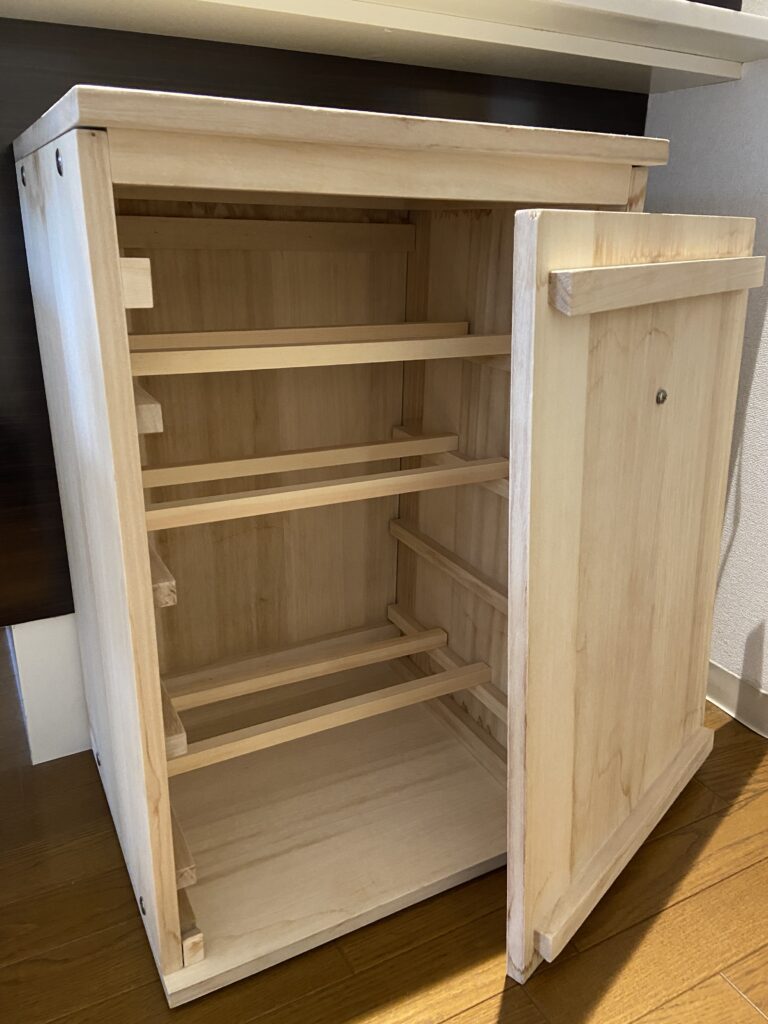 Assemble-type items are often damaged during disassembly and assembly, so it is important to assemble them on a soft cloth and to wrap them in a soft cloth and put them in a luggage. I wasn't able to do it properly at the WS venue, so if I could do it, I think there would be less scars. Unpainted paulownia wood is soft and easily scratched, so be careful. It is recommended to use the product in the assembled state as much as possible except when moving.
Also, when it was stored at the WS venue for two months, the air conditioning was set to be strong (it was over 27 ℃ in the middle of winter), and the wind directly below the air conditioning for a long time caused the dismantled board to warp. It never happened when I put it in the living room or warehouse of my house, so I realized that the iron rule of natural wood, avoiding the direct wind of the air conditioner and the sunlight, is still very important. In order to restore the warp, a large amount of water was sprayed on the non-warped side(outside), so there are many stains on the outside. Also, I dropped it twice on the hard floor, and the impact and dryness caused a crack on the right side of the door. As you use it, it will inevitably get scratches, lacquer stains, and moisture stains, so it would be nice to enjoy the effect of aging as a medal, or it might be interesting to playfully draw a picture on the outside with lacquer. yeah.
I bought IKEA's throw as a soft cloth after reflection. Newspaper, cushioning sheets, flannel and sheets are also good, but they are cheap and not so bulky, We recommend them. IVITMOSSA (100% recycled polyester) 399 yen per sheet!
https://www.ikea.com/jp/ja/p/vitmossa-throw-grey-70304890/
I would appreciate it if you could refer to the progress and countermeasures. And we are thinking about reselling it after autumn, so please let us know if you have any requests.