We will start a small group Traditional Kintsugi English class !
---
Why not enjoy Japanese handcraft " kintsugi "in Shirokane Tokyo?
Kintsugi the pottery you want to repair at your own pace. We will provide detailed and easy-to-understand instructions for beginners. As a rough plan you can repair 2 to 3 items in 4 to 6 times lessons (Depending on size and difficulty level) We wanted to create a salon-like place where people interested in kintsugi could gather, so we decided to hold the classes at our home, which is located in vintage apartment building. Urushi lacquer is used in the traditional method of kintsugi. (*Please note it is different from Modern Easy Kintsugi which is finished in one day)
Private lessons, small group lessons with your friends in English now available. (Those who can speak a little Japanese can also participate in our Japanese classes, details are in Japanese page.)
For reservations and inquiries, please feel free to contact us.


■Location: 5 minutes walk from Shirokane Takanawa Station
or  bus services from JR Tamachi, Shinagawa, Shibuya, Ebisu Station, etc.

 
■Tuition: Tools, materials, original text, use of lacquer bath, storage fee included
¥19,800/2 hours private lesson * Date &time upon request
¥26,400/2 hours for small group 2-4 persons * Date &time upon request
■Others
・This lesson is for beginners, and is suitable for first-timers and those who have experienced it several times.
・If possible, please bring 2-4 items at the beginning and we will proceed at the same time.
・We do not handle glass or lacquerware.
・Urushi Lacquer may cause a skin irritation depending on your constitution and physical condition, so everyone will be asked to wear gloves.
・Finishing gold powder, silver powder, etc. please purchase separately depending on your finishing wishes.
・If you do not have broken items we have some available and you can purchase it for around ¥500 -1,000.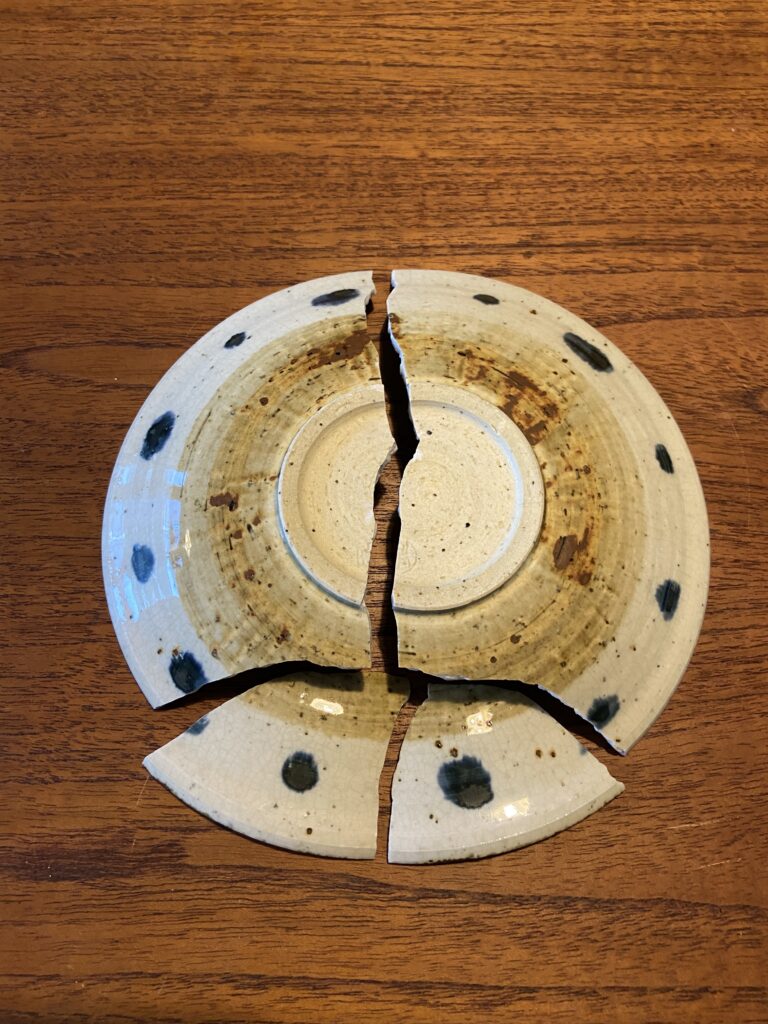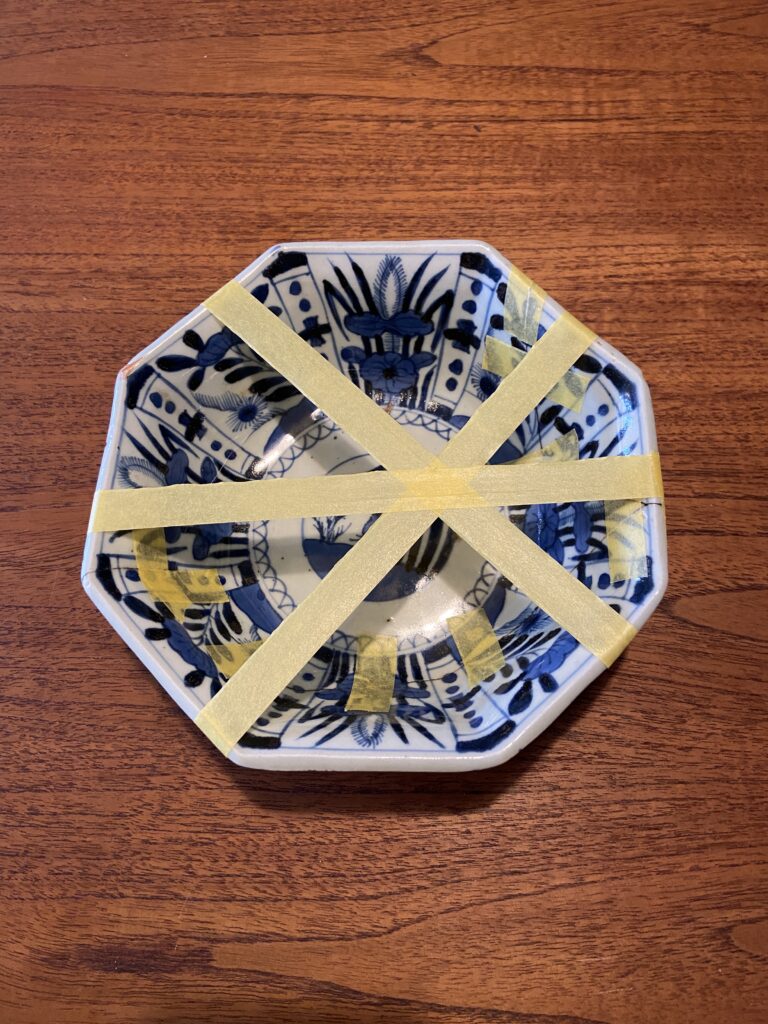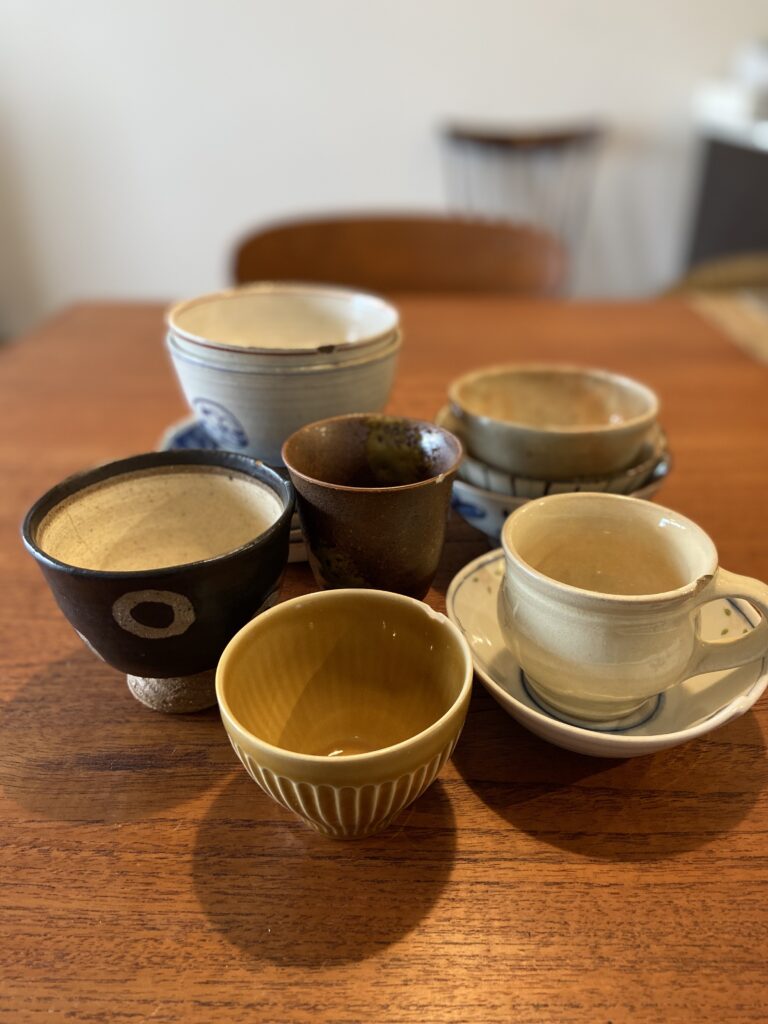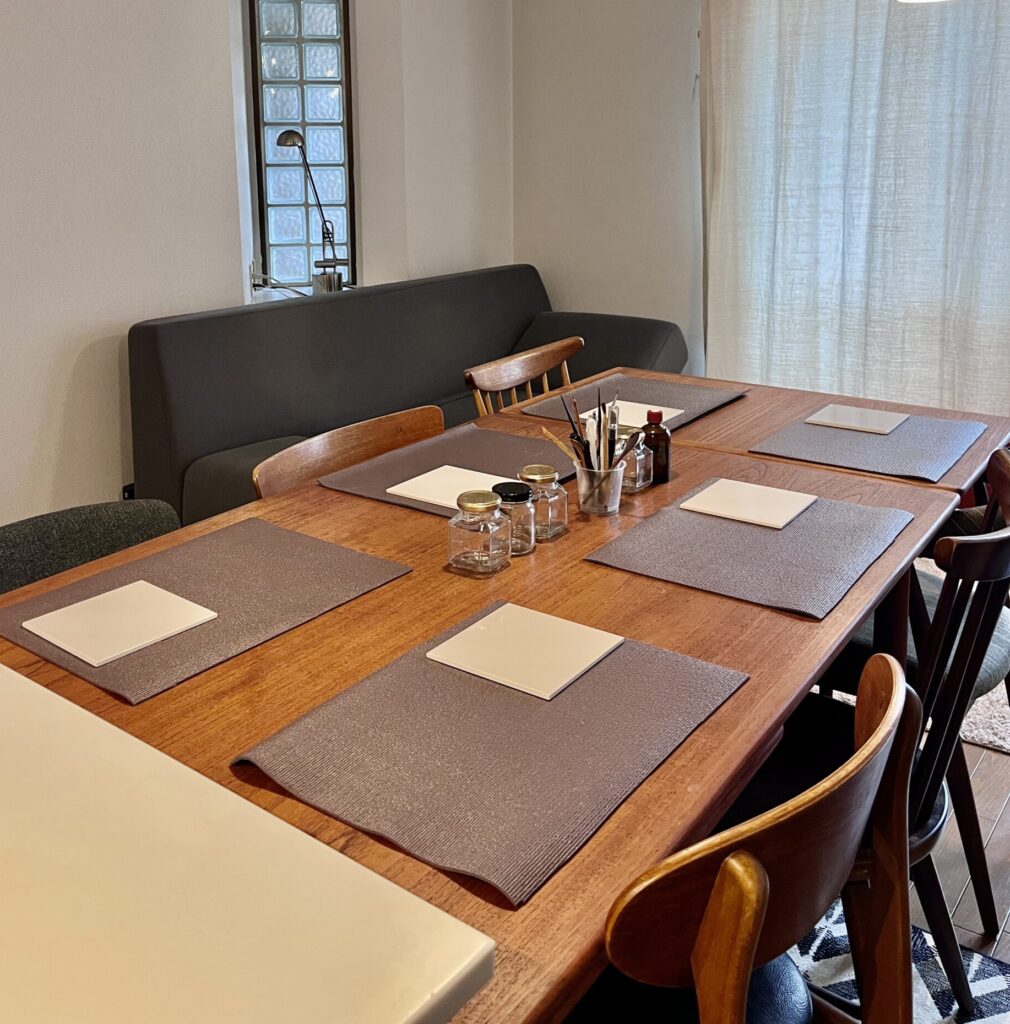 Started!! Pre-order sales for the knok-down box for lacquer "URUSHI MURO BOX KD" (The Registration has ended )
Although it is made of paulownia wood, unpainted, and has a dokko style door, it is assembled with stainless screws, so it can be breaking down and stored when not in use and also can be carried. We started thinking about making products because I didn't have what I wanted, and only simple items and custom-made items were sold. We thought that many people are looking for it. Why don't you take this opportunity to upgrade from the temporary cardboard and wooden boxes?
Developing with furniture designers for those who are making kintsugi, lacquerware, and maki-e work, run workshops and classes with a small number of people, and hold workshops in multiple locations or overseas. After comparing the humidity control of the finished product and the assembly type for about a year, we decided to use the assembly type after obtaining almost the same feeling of use. It can be assembled with only a hexagonal wrench and is made in a reliable factory in Japan. If it fits under your desk, I would like to recommend it to those who are looking for something that does not feel out of place as a corner of the workspace or as an interior decoration in the living room.
Due to the small volume of production, we will only sell by reservation for the time being. *All photos are samples with a height of 700mm, so please refer to the finished drawings for a height of 600mm.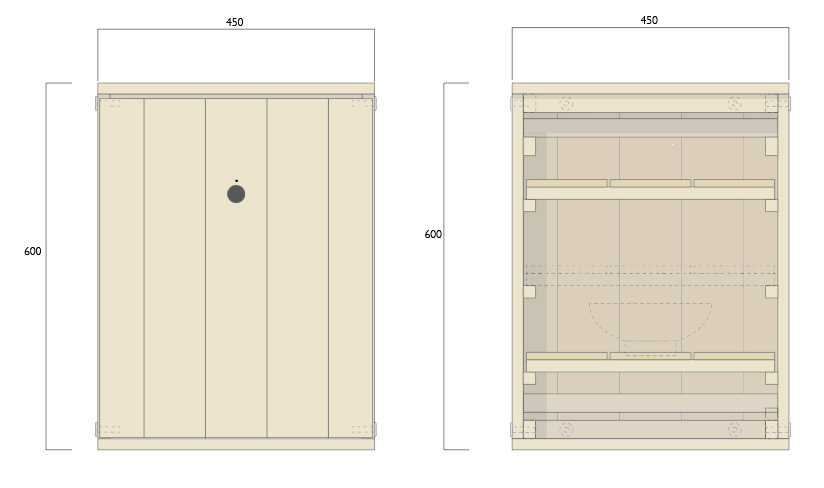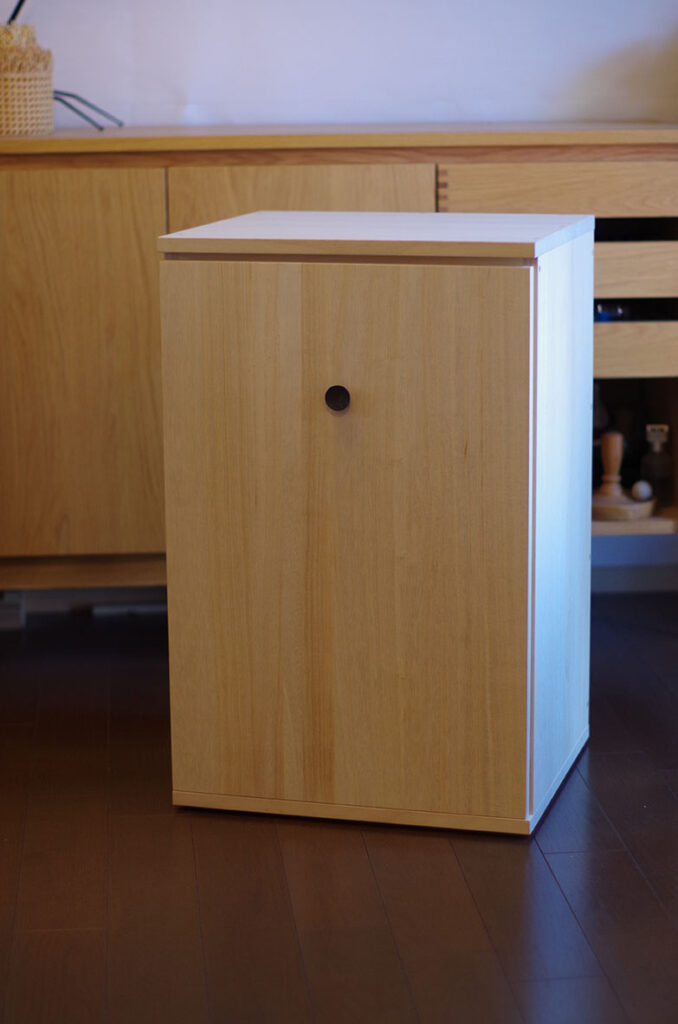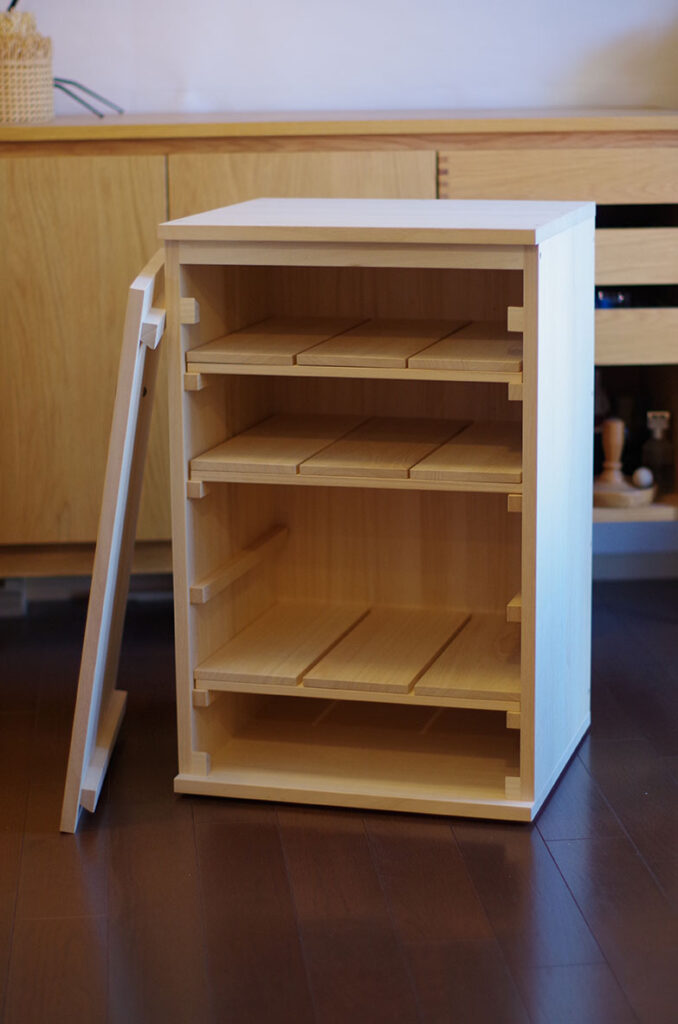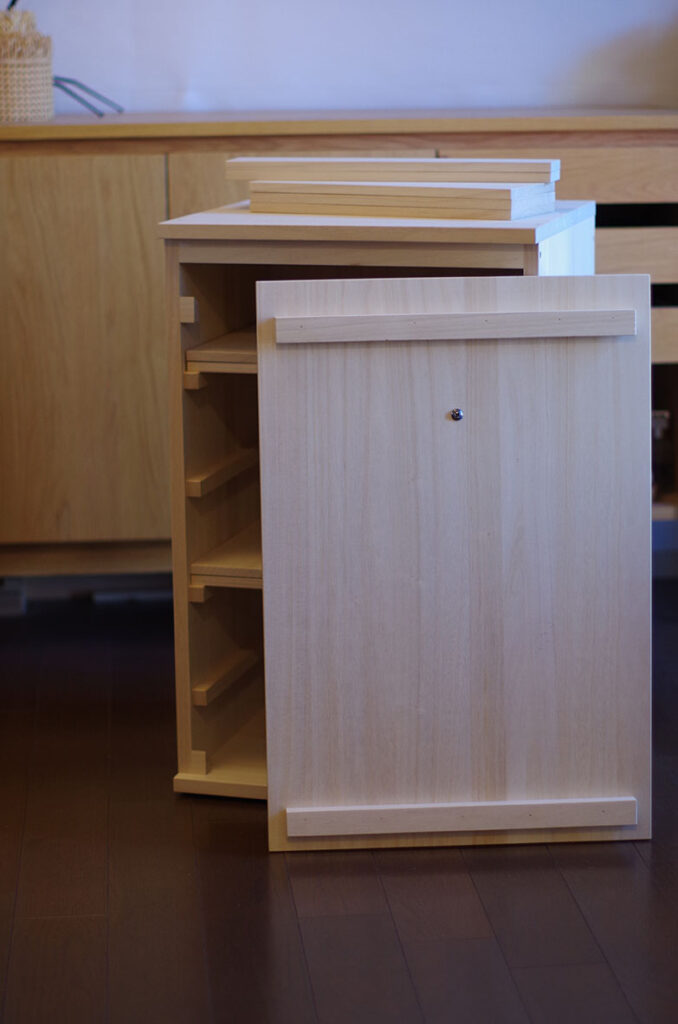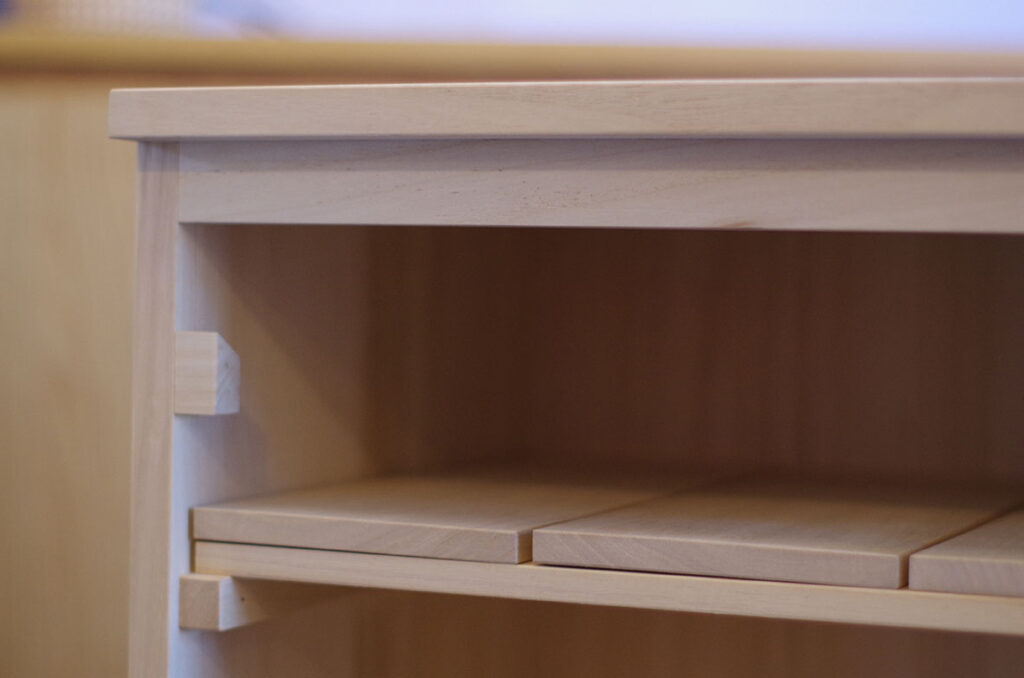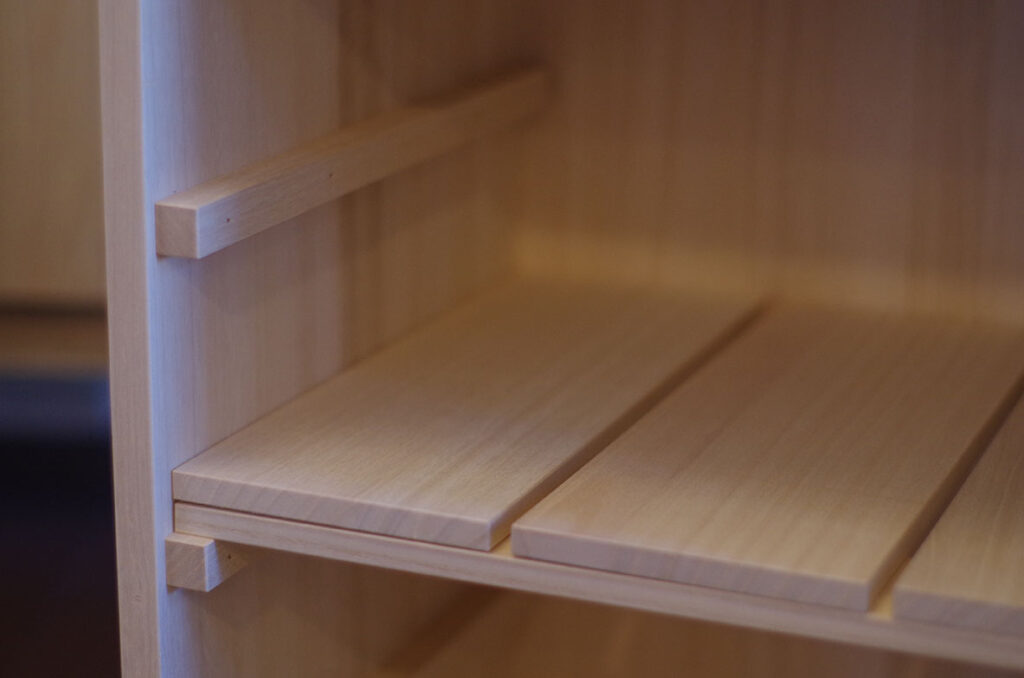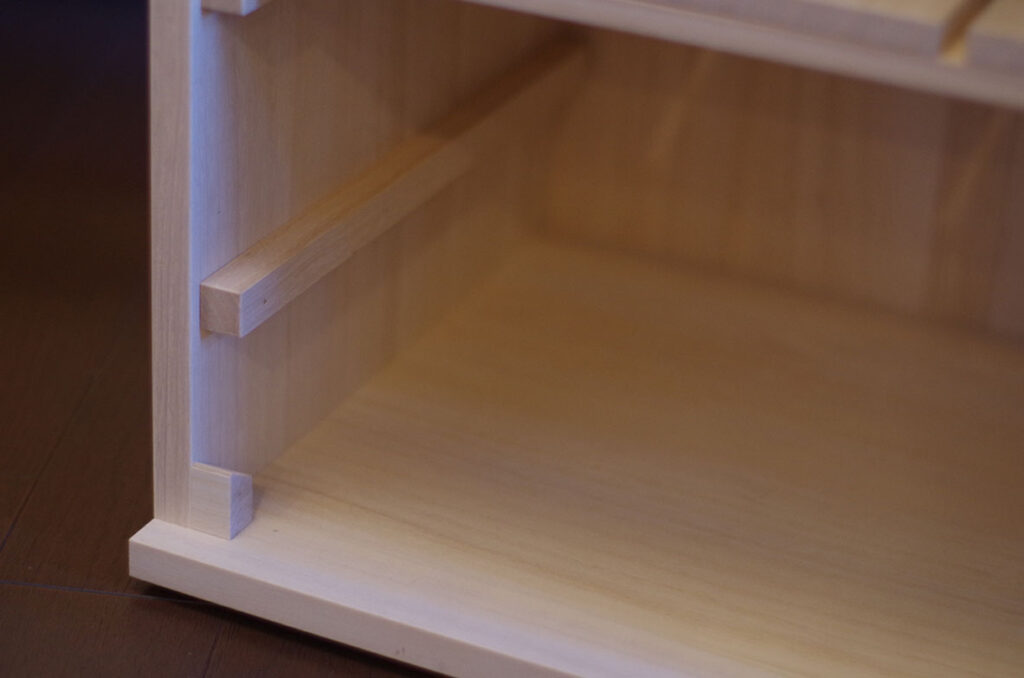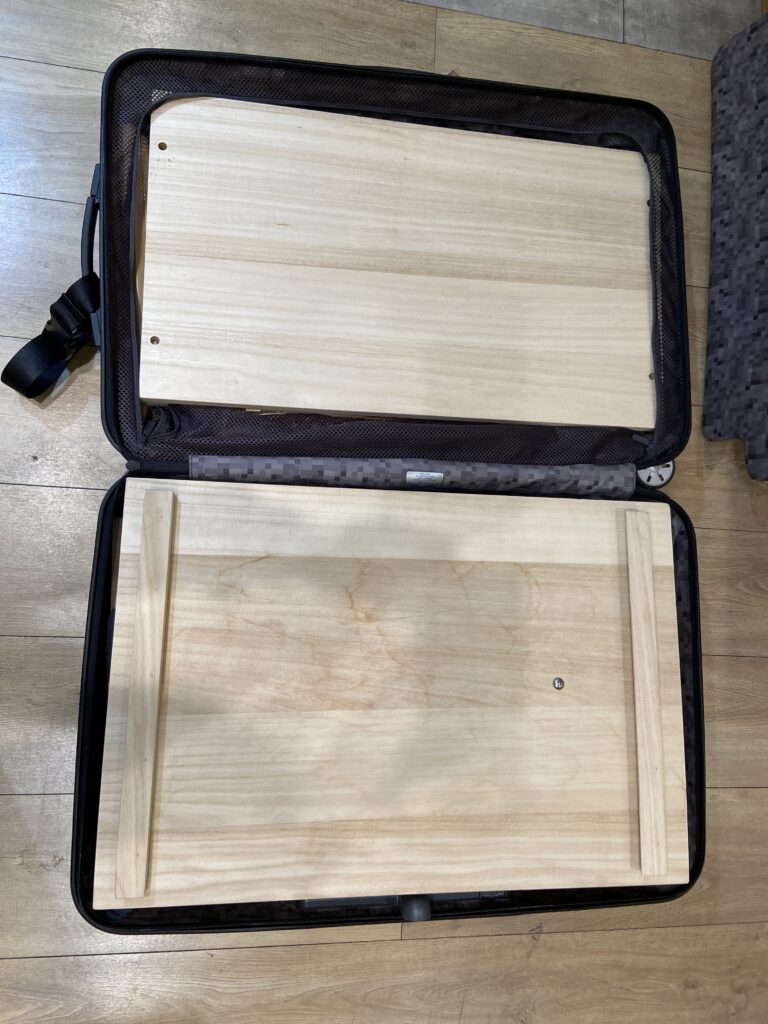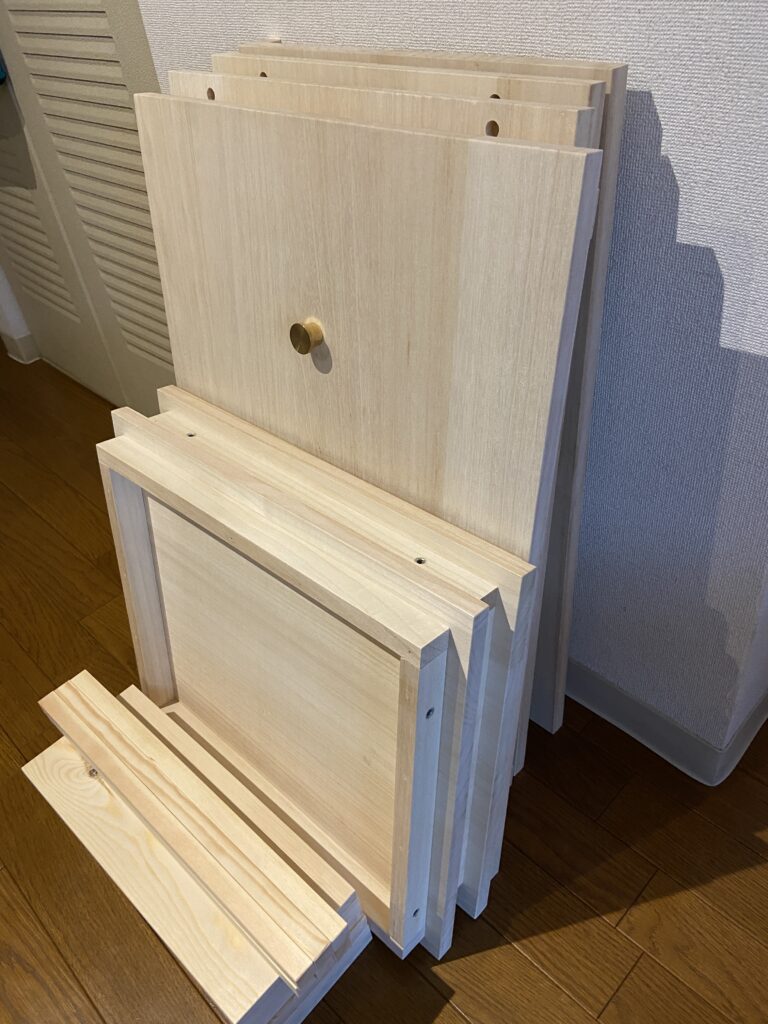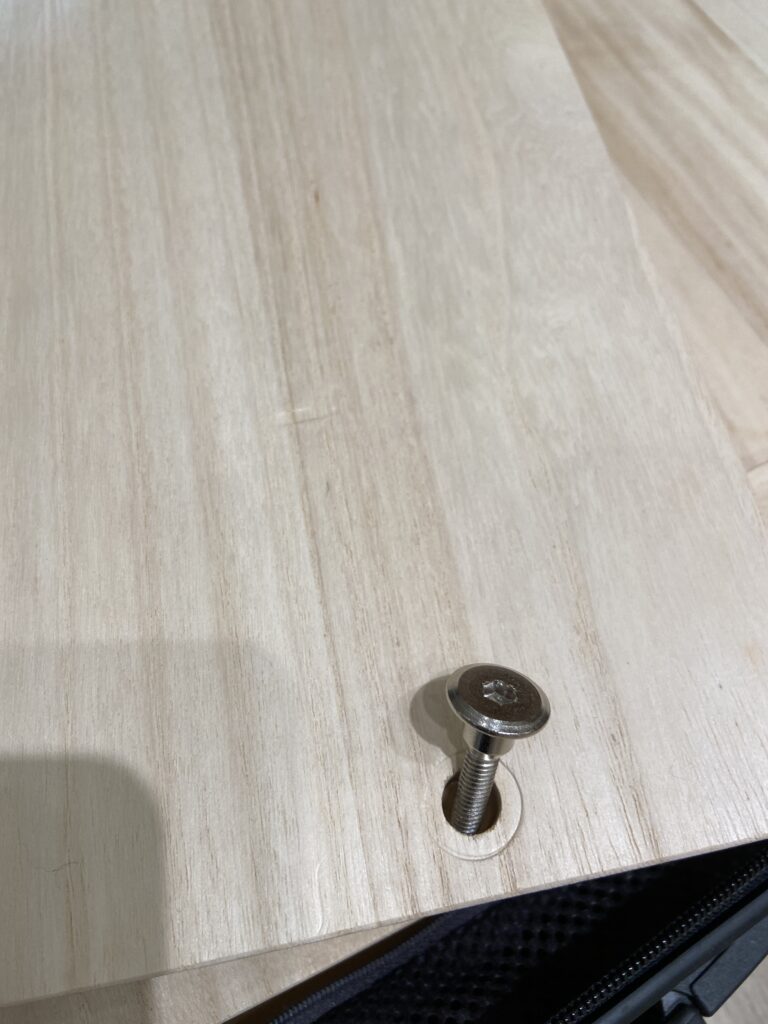 ■Price    ¥65,000  (Tax and Packing&Shipping fee for outside japan are not included)  
■Reservation  25/Jan 〜28/Feb 2023
■Delivery   Early April 〜
■Size    W450 x D400 x H600mm  
■Material    Main body: paulownia wood, shelf board/pass bar/pine wood, screw/stainless steel
          Knob/steel black coating All wood parts are unpainted
■Accessories  9 shelves, 6 transfer rods, 12 screws, 1 hex wrench
■Manufacturing  Made in Japan
■Payment. Reservation will be completed after paying reservation deposit ¥20,000.
Please pay the balance before shipping
■Cancellation Possible before shipping (there is no refund of the application fee)
■Application  Please fill in the address, name, email address, Phone number. from the inquiry form and send it.  We will contact you with the details.
*Notes and precaution for use. Please read before purchasing!!
*Natural wood is used, there are some differences in wood grain and color. *Natural and unpainted wood is used, some warping, crack, or stain may occur due to moisture and humidity. *If you wet one side and dismantle it immediately, it may warp. It is recommended to wet both sides evenly before dismantling in extremely dry conditions. *If the board is warped, wet the non-warped side before assembling. If you forcefully assemble it while it is warped, it may crack. *Please note that the support rod is removable and not fixed. *It may not be possible to store all items depending on the partitions and structure of the suitcase. *There is no scientific data for humidity control of finished products and assembled types. *It is recommended to assemble and use except when moving *Please refrain from using or storing it for a long time in a place where it is exposed to direct sunlight or wind from an air conditioner.